Green Energy Trends
Energy Information Administration long and short term predictions
The Energy Information Administration (EIA) has made some preliminary trend predictions for the U.S. Energy market, in its "AEO2011 Early Release Overview" and "Short-Term Energy Outlook" reports.  
Natural gas production is projected to increase at more competitive prices. This is due in part to technological improvements in natural gas extraction technologies and in part to the assumed doubling of the rate at which shale gas resources are tapped into. A strong recovery in Industrial demand is anticipated for both heat and power; electricity prices are anticipated to decline from 9.8 to 8.9 cents per kilowatt-hour by 2016.
Non-hydro renewables and natural gas are the fastest growing fuels used in generating electricity; however coal remaining the primary energy source. "Clean" coal-fired plants that were under construction are to be completed but no new coal-fired plants are anticipated; coal prices are projected to fall from their 2010 peak. Renewables are seen to be increasing their market share from 11 in 2009 to 14 percent in 2035 in direct response to tax credits and state legislation. The report assumes that federal subsidies for renewable generation will expire; if extended there could be a significant impact on renewable generation.
The renewables' rate of growth is less than predicted last year due to lower natural gas prices and higher costs for new wind power plants. The EIA's 2011 Short-Term Energy Outlook predicts a "13-percent increase in generation from other renewable sources, mostly wind, lead to a 2.4-percent reduction in coal-fired generation and a 1.0-percent decline in natural gas generation." (The American Wind Energy Association estimates 85,000 U.S. jobs in the wind industry and related fields, and wind power is the fastest growing sector in renewable energy according to the Bureau of Labor Statistics.)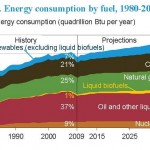 On the residential side, the EIA projects the demand for residential electricity at a slow and steady 0.7 percent. It is assumed that unconventional vehicle technologies will increasingly be adopted and that residential electricity use will be smarter and more energy efficiency measures adopted. Residential solar photovoltaic and wind capacity is projected to be 10.5 gigawatts in 2035, down from 11.2 gigawatts in the 2010 reference case. Residential distributed generation may have barriers inhibiting expanded distribution.
The AEO2011 Early Release also looks at energy-related carbon dioxide emissions, oil and gas production and prices, energy consumption.
Note: The AEO2011 report takes under evaluation a wide range of trends and issues affecting the U.S. energy markets. The overview report focuses primarily on one reference case, which should not be viewed in isolation. Readers are encouraged to review the alternative cases when the complete AEO2011 publication is released in order to gain perspective on how variations in key assumptions can lead to different outlooks for energy markets.
Images
Source: U.S. Energy Information Administration AEO2011 Early Release Overview (Dec 2010).
Reference
Energy Information Administration (EIA)'s
AEO2011 Early Release Overview
Subscribe to the Green Trends feed
Click here to subscribe to our monthly Green Trends article.