Cyber Monday E-commerce Records / Productivity / Hiring
Cyber Monday e-retailing predictions!
Cyber Monday is a marketing term for the Monday after Thanksgiving's online shopping extravaganza. It is the online retail equivalent of Black Friday, the Friday following Thanksgiving Day.
In 2011, Cyber Monday was the biggest day in the history of US e-retailing at $1.25 billion in online retail sales, and beat the other top holiday shopping days.
The National Retail Federation (NFR) predicts online holiday sales growth this year to rise by 12%. And ComScore Inc. is forecasting that e-commerce sales will increase 15% to 18% this holiday shopping season compared with 2011. Good news for the economy!
What does Cyber Monday mean for productivity?
With many retailers now promoting 'Cyber Week' during the week period following Thanksgiving, industry analysts warn that online shopping occurs during work hours, with consequences for worker productivity.
Will an early weekend start remedy employee internet shopping on the job? Not according to a CouponCabin.com report that says more employed workers will be hitting the sales from their desks this year. Reportedly 37 percent of employed shoppers plan to browse the Cyber Monday deals while they're at work, up from 24 percent last year.
Approximately one third of chief information officers interviewed by staffing firm Robert Half Technology report that their companies block access to online shopping sites, this is a significant decrease from last year when 60% did. Another 55% of CIOs say they allow access, but that activity is monitored for excessive use. And 10% report that their firms allow unrestricted access.
What does holiday shopping mean in terms of hiring?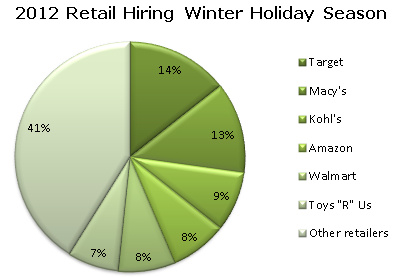 The NFR estimates that the retail industry will hire between 585,000 and 625,000 seasonal employees, compared to 607,500 in 2011 winter holiday season, and 563,000 in 2010.
Target will hire 80,000-90,000 – last year 30 percent of seasonal workers moved into permanent positions. Macy's will add 80,000. Online retail giant Amazon.com Inc. plans on hiring more than 50,000 seasonal employees at its fulfillment centers across the United States for the winter holiday season. Kohl's will hire 52,700, and Walmart 50,000 in addition to offering more hours to existing employees. Toys "R" Us plans on increasing by 45,000 – about 15 percent of the 2011 holiday work force became permanent placements after the last holiday season. 
Redfish Technology will be open on Cyber Monday!
Place a job order to hire top talent. Our professional recruiters have already wrapped up the holiday shopping and are available to grow your toper performing team now.