"Overall Modest but Durable Recovery"
March tech placements rose sharply. Industries with the most movement spanned: Healthcare Education, 3D Modeling, Mobile Apps, Disruptive Social Platform, Cloud, SaaS, Network Intelligence, and IT Agility Applications.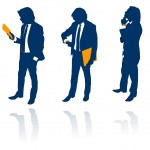 The roles most heavily recruited for last month were: Account Executive, Senior Account Executive, Alliances Manager, Software Solution Engineer, Implementation Engineer, ASP.Net Engineer, Server/Backend Developer, Full Stack Java Lead Engineer, and Android Developer.
While high tech accelerates, the overall jobs picture is also improving. The economy added 192,000 jobs in March, which is being called "Modest but Durable Recovery" by the NY Times.  The Bureau of Labor Statistics reports that employment grew in professional and business services, in health care, and in mining and logging.
US consumer confidence rose to its highest in more than six years last month as expectations brightened, according to a private sector report released on Tuesday, Reuters reported.
The Conference Board reports "Undoubtedly, there was some catch up in hiring following the inclement weather this winter. Still, the underlying hiring trend is encouraging, with more good news expected this spring and summer. This confirms the signals from The Conference Board's" Indices which were up 4 points on consumer confidence and 4.4% on employment trends.
#hiring #staffing #jobsreport #hightech #techrecruiting