Redfish Technology Tuesday Jobs Madness Recruiting Spotlight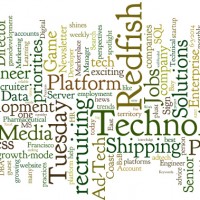 We will be changing up the Tuesday Jobs Madness to shine a spot light on some key priority opportunities each Tuesday. As always we will have the highest priority jobs listed in the Redfish LinkedIn Group under the Jobs Discussion tab. In a few weeks we will move to using our LinkedIn Career page to showcase the priority jobs we are recruiting for. All jobs will continue to be searchable on our website.
Spotlight on killer career opportunities:
Ad-Tech Platform company hiring Sales positions on the East Coast and the Southwest region
We are recruiting for several National Media Account Directors, one specialized in Pharmaceutical Services (#21464) and another in Financial Services (#21463). Additionally for an east Coast territory position we are seeking a Senior Director of Media Sales (#21462). Finally in the Southwest territory, we are recruiting for an Enterprise Sales Director (#21461).
This is Ad-Tech Platform company that is revolutionizing the B2B marketing space. Our client is the only real-time targeting & personalization platform offering marketers company-targeted display advertising, website engagement & conversion modules for a consistent view of accounts from spend to revenue. They are privately held, growing and are extremely well-funded, with an existing client base that includes; Adobe, HP, Dell and Informatica. These are opportunities to make a big impact within a 95 person startup being acclaimed as the "it" site for B2B marketing platforms.
Sneak Peeks:
A startup in the Automobile Marketplace in the San Francisco Bay Area (#21436) is hiring for a software engineer who will be the very first technical hire. This person will help expand the engineering team and needs to have 5 or more years of experience in developing web apps using C# and .NET and a deep knowledge of the .NET framework (C#, ASP.NET, ADO.NET).
A Digital Learning in Redwood City is hiring for a software engineer (#21434) who wants to be responsible for writing high quality, reliable code for a next-generation learning game platform supporting multiple games on multiple platforms. The ideal candidate will have experience being an integral part of a team that has brought client server products to market and who has experience with REST APIs.
A well-established Postage and Ecommerce Shipping Solutions company based in Palo Alto is hiring for MS SQL Server DBA cum Developer (#21447). This is an exciting opportunity to work in an R&D organization to help re-architect, manage, tune, and grow the Microsoft SQL Server Data Base and related e-commerce applications
A Bay area Game Development Technology is looking for a Technical Marketing Manager (#21445). Work for one of the world's leading providers of entertainment and simulation technology, in a unique supportive environment where you will have career, travel and research opportunities.
A growing Enterprise Big Data company in San Francisco is hiring for a Senior Field Engineer (#21435). This is an opportunity to provide Big Data technical capabilities, product expertise, and project management skills to prospective accounts during pre-sales and post- sales phases of their development.
Let us know how you like this new format for presenting the week's recruiting priorities.
Cheers – Redfish Technology – Building growth-mode tech companies with hand-picked talent.
Feed the Tuesday Jobs Madness Recruiting Priorities Spotlight to your Inbox weekly
Subscribe and have our Tuesday job recruiting priorities delivered to you:  Subscribe to the weekly feed!