Weekly Tech Career Opportunity Spotlight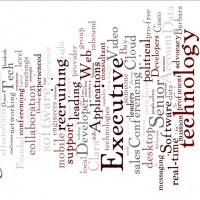 This week, our tech recruiting priorities are: Account Executive, Sales Engineer, & Tech Support Engineer – Cloud Video Conferencing; Applications Developer – Data and Technology Provider; Sales Executive – Web CRM Software; and more.
Cloud Video Conferencing
Our client unifies cloud video conferencing, simple online meetings, and group messaging into one easy-to-use platform. Founded in 2011 by experienced leaders and engineers from Cisco and WebEx, every founding engineer has over 10 years of experience in real-time collaboration software. The mission: Develop a people-centric cloud service that transforms the real-time collaboration experience and improves the quality and effectiveness of communications forever.
We are recruiting for several roles for this exciting company. The Account Executive (#21804) in Santa Barbara will work with clients to provide them the right services to meet their video and online meeting needs across their conference room, classroom, desktop, and mobile users. Working in a defined geographic territory, you will proactively engage with target companies that fit our sweet spot, as well as follow up on various sources of inbound leads to take them through the complete sales cycle to close.
The Senior Sales Engineer (#21802) in Santa Clara will act as a customer's trusted advisor and technical consultant. The Sr. Sales Engineer is expected to be highly proficient in all areas related to our products and represent the technical aspects of how we solve customer problems.
The Senior Tech Support Engineer (#21803) in Santa Clara will be reactive and proactive on a day to day basis, and is expected to be highly proficient in all product related areas. Duties include L2 support to customers, sales and L1 engineers, manage and resolve escalated issues and maintain a high level of proficiency in video, networking, desktop and mobile technologies.
Data and Technology Provider
Work for the leading data and technology provider for the pro-free market political and advocacy community, supporting organizations that promote free enterprise and smaller government. This company has a dynamic workplace sitting on the leading edge of politics, technology, and business and they are seeking team members who are as excited about their cause as they are about building the next generation of political technology.
We are recruiting for multiple Bay Area, CA remote positions: The Applications Developer C#/.net/SQL (#21784) and Database Developer SQL (#21785) require Database Developers with a strong understanding of database concepts, excellent logical skills and the capability to learn and implement solutions in a fast paced environment.
Web CRM Software
Founded in 2000 with the mission of supporting local municipalities with technology solutions to serve their communities more efficiently and effectively, this company empowers over 25,000 staff members in hundreds of public agencies across the country with our comprehensive suite of products for Customer Relationship Management, Code Enforcement and Inspections and Citizen Mobile Access software.
We are searching for the right Sales Executive (#21786) in Oakland, someone who is committed to making a difference in helping state and local governments improve their effectiveness and better serve their citizens with customer-driven support solutions. The ideal candidate will be an experienced sales producer – someone who knows how to drive new revenue and thrives on seeking out and actualizing the next level of success.
Search all jobs
Above are some of the key opportunities that are priority hires for us this week. You can find details on these jobs and other fabulous tech career opportunities on our website.
Want updates via LinkedIn?
Follow Redfish on LinkedIn and get job updates, career advice, hiring best practices, and recruiter perspectives. Just click on "Follow" on Redfish Technology's company page.
Redfish Technology: Building Growth-Mode Tech Companies with Hand-Picked Talent.