Tech Trends
What are the hottest growth cities in the tech/STEM sectors?
Forbes recently published an article "The Best Cities For Tech Jobs", in which the author, Joel Kotkin, analyzed tech-related jobs (including software, data processing and Internet publishing), and STEM (science, technology, engineering and mathematics-related) employment, in companies spanning manufacturing to business services to finance.
Interestingly, Silicon Valley isn't in the top five despite the preponderance of high profile tech companies there. In fact, despite offering the most tech and STEM jobs in the U.S., Silicon Valley employed 170,000 less folks in 2011 than in 2000.
Coming in number one is the Seattle-Tacoma-Bellevue metro, with increased tech employment of 43% and STEM of 18% in the decade from 2001 to 2011. The last two years documented 12% growth in tech jobs, and 7.6% growth in STEM jobs.
The runner up is the Washington-Arlington-Alexandria metro area that boasts growth of just 20% in both tech and STEM employment; with approximately 4% growth over the last two years in each category. The Washington metro area boasts the second-highest proportion of tech and STEM jobs among the cities surveyed. This metro offers more than double the national average of jobs in fields such as computer systems design, custom programming, and private-sector research and development.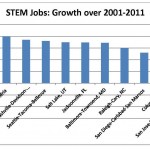 A bronze medal goes to the San Diego-Carlsbad-San Marcos metro, where the last decade has seen almost 30% growth in tech employment and 13% in STEM jobs; 2010 and 2011 held strong with growth of 15.7% in tech and 6.5% in STEM. Leading the jobs growth are sectors such as biotechnology and other life and physical sciences research.
Coming in at number four, the city of Salt Lake has experienced 31% growth in tech jobs and 17.5% in STEM jobs over the last decade, the last two years have witnessed 7.6% 4.5% growth respectively.
Baltimore-Townsend metro came in at number five with tech jobs growing 38.8% and STEM jobs increasing 17.2% over the last decade. Of note, many Silicon Valley companies are among those moving to Utah, for example Adobe and Twitter.
Jacksonville handily beat out Silicon Valley in terms of growth. To take 6th place. The 10-year increase in tech employment there his 72.4% and STEM hit 17.4%. While starting with a low base, the fulminous growth rate has been ignited by data centers, computer facilities management, custom programming and systems design sectors.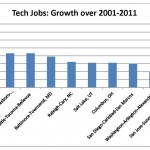 Silicon Valley earned a number seven from Forbes.com. The San Jose-Sunnyvale-Santa Clara metro saw an 8% increase in tech jobs over the last two years, and 10% over the 2001-2011 period; on the STEM side there has been a decrease of 12.6%. Despite the negative growth on the STEM side, the Valley does have the highest proportion of tech and STEM jobs in the nation. Neighboring San Francisco has experienced similar growth to Silicon Valley over the last two years in both tech and STEM, but STEM only barely increased by less than a percent over the decade.
Ranked at eight, Columbus boasts an above-average share of tech and STEM employment, and benefits from being both affordable and business friendly. The Ohio state capital has enjoyed 31% growth in tech jobs over the past decade and 9.5% in the past two years, to go with an expansion of STEM jobs of 7.8% and 3.8% over the same periods.
Raleigh-Cary, N.C., ranked ninth, is another relatively low-cost, low-hassle winner, expanding its tech employment a remarkable 32.3% in the past decade and STEM jobs 15%.
Redfish Technology, Inc. is a nationwide IT and Clean Tech recruiter. Recruiting since 1996, the company offers nationwide coverage and boasts offices in Silicon Valley, the East Coast, and the Intermountain West. We specialize in locating talent in the High Tech and Green Tech / Alternative Energy sectors.  We cut our teeth in high tech in the Silicon Valley and continue to enjoy long lasting relationships with companies of all sizes. We work with exciting start-ups to Fortune 50 companies – and so can you!
 
Reference:
The Best Cities For Tech Jobs – Forbes.com
Looking for a job in high tech or green tech?
Search all Redfish Technology Jobs