Exciting, Well-Paying Tech Jobs in 2013
Tech Trends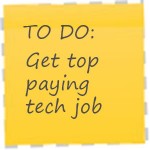 The recent study by 2013 Salary Guides from Robert Half Technology and The Creative Group shows exciting promise for salary gains in information technology (IT) and creative roles. There is a high demand for these professionals as companies focus on building and improving their digital communications and make investments in IT infrastructure.
"The pressure on salaries is being felt wherever there is competition for tech savvy talent," stated Logan Knight, IT Recruiter at Redfish Technology. "We are seeing a trend of rising pay for top-notch IT talent extends across industries such as healthcare IT, social and mobile applications, and big data."
The top six tech and design jobs in 2013, according to Robert Half Technology are:
Mobile Applications Developers
With the explosion of mobile use, everyone wants to reach you on your smartphones, tablets and other mobile devices. This requires enormous development resources for the small screen. The average starting salary for mobile applications developers is expected to increase by 9 percent, with salary ranges from $92,750 to $133,500.
Business Intelligence Analysts
The more data we collect, the more we work it takes to analyze it. The BI analysts take the raw data and convert it into something comprehensible in order to make critical business decisions and better target customers. The salary gain for business intelligence analysts will be in the order of 7.3 percent, with starting salaries between $94,250 and $132,500.
Network Architects
Company's communication infrastructure is primordial in this day and age. The network architects manage the business and applications requirements for corporate data and voice networks. The salary rise predicted for network architects is a 7 percent starting salary boost, ranging from $102,250 to $146,500.
Interactive Creative Directors
The digital and content explosion generated more acute need for interactive roles. Companies desire professionals with proven leadership skills and digital expertise to manage growing teams. The interactive creative director role can look forward to an increase of 4.9 percent, with average starting salaries between $95,500 and $160,000.
Interaction Designers
Maximizing a customer's online experience, interaction designers understand and deepen the relationship between people and products. For professionals with up to five years of experience, the payoff should be a 4.9 percent increase, to between $52,250 and $77,500.
User Experience (UX) Designers
UI/UX designers are critical to the customer interaction online, and companies who create positive digital experiences reap the rewards. UX designers can anticipate a 4.8 percent salary increase, with starting compensation from $73,750 to $110,500.
More information about the positions listed above can be found in the Robert Half Technology 2013 Salary Guide, which includes a wide range of IT job descriptions, and The Creative Group 2013 Salary Guide, which focuses on interactive, design and marketing jobs.
*All salaries listed are U.S. national averages based on data published in the 2013 Salary Guides from Robert Half Technology and The Creative Group. Actual salary ranges may vary depending on location.
Robert Half Technology Which six tech & creative jobs will see above average salary gains in 2013?