Is Your Industry Among the Largest in Growth or Decline?
By Masters in Human Resources Degrees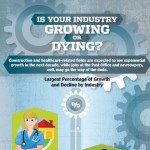 Railroad line-layers, telegraph operators, horse-breakers; what do these jobs have in common? Once very important, these vocations eventually lost all demand. In today's ever-changing world, certain occupations are expected to see fantastic gains in demand. Others vocations however, are expected to become obsolete. This is the way of progress.
Healthcare-related fields and construction are two areas expected to do exceptionally well in coming years. On the other side of this are jobs with the postal service, newspapers, and magazines. These particular jobs are dying off quickly.
So what are some of the other major job outlooks telling us about the decade to come?
Individual and Family Services +5.5%
Management, Scientific, and technical consulting services + 4.7%
Computer Systems Design +3.9%
Cement and Concrete Manufacturing +3.2%
Software Publishers + 3.1%
Automotive Repair +2.6%
Electrical Equipment Manufacturing -1.5%
Pipeline Transportation -2.6%
Leather and Hide Processing and Manufacturing -7.6%
Apparel Knitting Millwork -8.3%
Image compliments of Masters in Human Resources Degree Guide
These findings are direct from the U.S. Bureau of Labor Statistics. Which path will you choose? Following growth is a great start in the decision-making process.