Redfish Technology Recruiters Rock 'n' Roll the Vegas Marathons
On November 17, 2013 Vegas trembled with the pounding feet of a school of Redfish Technology recruiters: Five Redfish participated in the Rock 'n' Roll Marathon series events. Redfish recruiters rock high tech recruiting nationwide when not engaging in physical challenges.
Coursing down the strip and by the famous sites, the Redfish ran through a city they previously had seen little of in the light of day. Live, local bands serenaded the racers and cheer squads lining the course propelled them toward the finish, where medals, swag, and entertainment awaited the fleet footed fish.
"I rocked Vegas," revealed Leah O'Flynn. Having successfully run the Sun Valley Half Marathon, Leah had set a new goal of running a full marathon in Vegas. "Each time I run, it is the farthest I've ever run in my life. – It's always a new record."
Logan Knight was winner of "The Run Off" held earlier this year, a race from the city of Hailey to the city Bellevue, finishing at Mahoney's Bar & Grill for festivities. "I decided I had better up my training for the half marathon," reported Logan. He has been playing basketball, "I attribute my awesome race time to the hoops I shot the night before."
"We did it for humanity and free beer," stated Rob Reeves, CEO at Redfish Technology. Rob had been on a strict diet and training regime for months and was ready for a beer. "But seriously was the beer free?"
"This was all about sacrifice and discipline," voiced Heidi Clark, a veteran Race to Robie Creek runner. "Coincidentlay the same two virtues needed to stay and shop at the Bellagio, and I'd do it again. After all it was just a 'half' marathon."
Jon Piggins, had been carb loading for the last four months, preparing to survive the half marathon. "I'm not sure how this happened but I somehow got my arm twisted and wow, now it's all twisted. But it was a great experience, a new achievement for sure!"
Full Marathon Results
OvrPl
Bib
Name
City, State
Time
1067
18075
Leah O'Flynn
Ketchum, ID
4:15:04
Half Marathon Results
OvrPl
Bib
Name
City, State
Time
1501
12714
Heidi Reeves
Hailey, ID
1:51:43
2968
12715
Rob Reeves
Hailey, ID
1:59:43
3967
19831
Logan Knigh
Hailey, ID
2:04:15
15259
28290
Jon Piggins
Hailey, ID
2:52:30
Redfish Technology is a high-energy, professional group of expert headhunters. In addition to looking for fun challenges on the golf course and down the Vegas strip, and whenever the occasion arises, the Redfish recruiters also provide talent acquisition and hiring advice, as well as career and job search guidance. Check the Redfish blogs for weekly articles on tech trends, talent acquisition, career building, and recruiting news.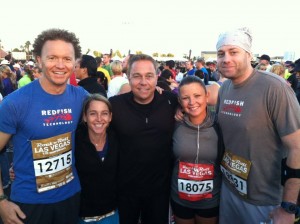 About Redfish Technology – www.redfishtech.com
Nationwide High Tech professional and executive search firm, Redfish Technology provides full service recruiting, partnering with leading organizations to win the tech talent war. Redfish has been recognized in the Forbes "2011 Investment Guide" as a top recruiter out of more than 7,500 executive search firms and staffing agencies, and was awarded #1 in the Best Places to Work in Idaho contest in 2013.