BI, IoT, Digital Media Among Hottest Industries for 2014.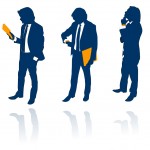 January placements were predominantly in the sectors of Personal Business Analytics, Disruptive Technology Platforms, Educational Analytics, and Video & Text Chat/Digital Media. Our clients hired Product Managers, Regional Account Executives and Dev Ops & Quality Assurance Engineers.
The general economy added a paltry 113,000 jobs last month (the private sector added 142,000, and government payrolls diminished by 29,000). At least in tech employment is still increasing! Business intelligence, Internet of Things, Healthcare, Retail, and Construction are among the hottest industries for 2014.
The TechAmerica Foundation reported that Tech Industry Employment Up by Over 100,000 in 1st Half of 2013, employing 6.2 million people at mid-year. Tech jobs were driven by software services, and engineering and tech services Q1-Q2. Technology manufacturing and communications services were also growth areas.
IT jobs grew 0.03% to 4,521,400 in the last month of 2013, according to TechServe Alliance, the national trade association of the IT & Engineering Staffing and Solutions industry. Year over year December that is 4.56% growth for an addition of 197,100 IT workers. Engineering jobs also grew in December, up 0.13% to 2,479,300, with YoY growth of 1.39% for an increase of 33,900 engineering workers.
"While IT employment grew almost three times the rate of the overall job market last year, the rate of growth decelerated throughout 2013," stated Mark Roberts, CEO of TechServe Alliance. "While employers clearly exhibited more caution in the latter half of last year, there are signs that the rate of growth of IT and engineering employment should strengthen as 2014 unfolds," added Roberts in a TechServeAlliance Press Release.
[plus1 count="true" size="standard"][/plus1]
//