Changes in Marketing, Higher Demand – Higher Pay, Industry Consolidation, and more…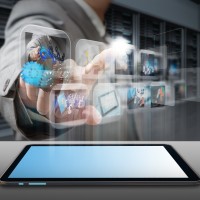 "The Big Data technology and services market represents a fast-growing multibillion-dollar worldwide opportunity and is expanding rapidly. A recent IDC forecast shows that the Big Data technology and services market will grow at a 27% compound annual growth rate (CAGR) to $32.4 billion through 2017 – or at about six times the growth rate of the overall information and communication technology (ICT) market." – IDC
Marketing
5 Ways Marketing Will Change in the Next 5 Years – Predictions to Guide the Modern Marketer's Strategy @Gigya
An 8-page white paper that discusses the following predictions:
1. Massive data collection across multiple touch points becomes standard (Data Collection Volume Increased by 400% in 2012 and an estimated 2.2 million terabytes of new data are created each day);
2. Marketers get a firmer grip on data they manage (Users expect personalized web experiences more and more, data must become more accessible to nontechnical marketers);
3. Social media grows into big data (Social Login makes logging in easy and connects users' information including profile photo and user profile fields, and more);
4. Permission marketing becomes the norm (40% of users may opt-out from registration to protect their personal information, clearly companies need to earn trust by showing a commitment to data privacy and being transparent about the business's data usage policy);
5. Programmatic marketing ends the age of generalizations (Modern marketing is all about personalization and relevance).
Salaries
Big Data, Big Pay: 10 Data Jobs with Climbing Salaries @CIOonline
This is a great slide show that captures a quick and neat summary of the salaries and typical duties of 10 data-centric IT jobs. Data warehouse manager, Data architect, Database manager, Business Intelligence Analyst all score big salaries all starting in the 6-digits.
The information comes from the 2014 Salary Guide by Robert Half Technology, where you can get detailed information on 10 IT jobs in the data/data administration field including more about the salaries, skills requirements and job duties of 10 data-centric IT jobs.
Industry
Trends in Big Data: A Forecast for 2014, by Andy Walker @andy42six
There's both a short video and a well-written brief article by Andy Walker, VP and General Manager, Big Data & Analytics, at CSC. Walker highlights his view of the major trends in big data.
He sees a re-focus towards the use of big data infrastructure and an evolution towards a virtualized infrastructure. The shift in focus will be towards analytics applications and what all can be done with big data infrastructure, creating an even bigger demand for data / analytics scientists. And, there will be consolidation of Hadoop distributions as the industry settles on a few major players.
More on Social Login
If Login Data Is Gold, Social Login Data Is Platinum, by Higinio Maycotte @Umbel
In 2013, 90% of Internet users encountered a social login and more than half of those people used one according to Janrain.com. The preferred social login was Facebook (with 45% of the vote), Google+ (35%) came in second, Twitter (6%) and LinkedIn (2%).
While it is so convenient to have a single login, again trust is the critical component. One way to earn that trust is by providing options to users, "ones that cater to convenience and others to personal privacy".
More on Industry Changes
Strides for Big Data in 2014, by Gil Allouche @gilallouche
Demand will continue to outweigh supply of big data professionals until big data is completely mainstream. Ig data specialists will have no shortage of opportunities, but companies will have to work hard to acquire and retain employees.
The playing field will be leveled as small and medium companies are able to access Big Data. The increase in technology and cloud service providers like Hadoop in the Cloud, along with cost reductions is what will make it possible for companies of all sizes to take advantage of all that big data can offer.
Warning!
Google's Flu Project Shows the Failings of Big Data, by Bryan Walsh @bryanrwalsh
Designed to provide real-time monitoring of flu globally, the Google Flu Trends (GFT) program was off by 50% in the last two flu seasons. How can this be? "Google believed that its big data methods alone were capable of producing a more accurate picture of real-time flu trends than old methods of prediction from past data… Just because companies like Google can amass an astounding amount of information about the world doesn't mean they're always capable of processing that information to produce an accurate picture of what's going on—especially if turns out they're gathering the wrong information." Think GIGO.