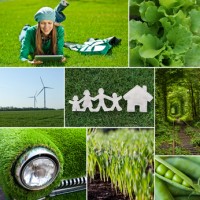 No matter how many water bottles you've thrown away or lights you've left turned on, it's never too late to live with eco-enthusiasm, starting with your career. Since you've already outfitted your home with eco-friendly solutions like solar thermal systems and panels, why not go green with your full-time job? Now you can live and work with eco-enthusiasm. The following guide can help galvanize your eco-conscious career.
Eco-friendly Job Searching Tips
Eco-friendly awareness and making simple, smart choices while job searching can support your green efforts. Here's how.
Search for free job applications on job search sites, attach resumes as a PDF, submit online applications, and use LinkedIn tools. Even Skype interviews can reduce the carbon footprint of job searching by lowering gas usage.
Create a website as an online portfolio to showcase work samples.
Share it with an employer during an interview on your own tablet. You can even include a QR code on a business card, resume or cover letter to direct an HR manager to your Google+ page, for example.
Reduce the harmful environmental effects of PC consumption.
When you're not job searching or networking on your computer, make sure it resorts to automatic sleep mode. Keep your monitor's brightness low, and use a laptop over a desktop. Laptops are more energy-efficient because of the slim design and light weight.
Earth-friendly Jobs
The Bureau of Labor Statistics defines green jobs as "jobs in businesses that produce goods or provide services that benefit the environment or conserve natural resources," as well as "jobs in which workers' duties involve making their establishment's production processes more environmentally friendly or use fewer natural resources." Green jobs include green goods and services, technologies and practices.
If you're searching for a new and more environmentally impactful profession, check out the following eco-friendly professions. Salary.com highlights these in-demand jobs that can green your future career path.
Demand for organically produced goods steadily inclines; industry experts estimate that in 2012, U.S. organic food sales reached $28 billion, according to the United States Department of Agriculture by the Economic Research Service. Organic produce and dairy led organic sales by 43 and 15 percent of total organic sales, respectively, in 2012. Meet market demand by providing your community with healthy foods free of pesticides and genetically modified organisms (GMOs).
Make over green lawns with eco-friendly landscaping techniques that help reduce excess water and pesticides. As a professional landscaper, you can apply money-saving and energy-conserving landscaping methods, including shading, windbreaks, green materials, snow control and solar polar.
Renewable Energy Engineer
If you have a background in electrical, mechanical or chemical engineering, you can use your expert training to improve the use of natural energy sources and create a more sustainable energy future. Renewable energy engineers will make an environmental difference while meeting demands for cleaner wind, solar, bioenergy, geothermal and hydropower resources.
Other green opportunities include energy-efficient builders and architects, "ecopreneurship," green investment adviser, alternative energy sales, and urban planner, identifies Salary.com. You can also increase your sustainability efforts by working for an ecocentric company. Greenbiz.com ranks the best global green brands, and The Globe And Mail highlights the greenest Canadian employers in 2013.
About the author:
Charlene Parks
Charlene is an environmental lawyer, runner, book lover.