Tech Career Opportunity Spotlight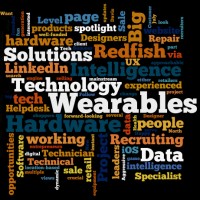 Happy July – Summer recruiting is heating up! This week's spotlight on hot recruiting priorities covers hardware, big data, and health tech. You can apply to many of our priority jobs via our LinkedIn Career page. And you can search all our jobs on the Redfish website.
Retail & Hospitality Point of Sale Hardware Solutions
Aggressive hiring in the hardware solutions sector. One of North America's premier certified, pre-owned POS hardware solution providers has several openings.
This company views their loyal customers as the most important part of the team. Their trained technicians are the engine of their point of sale refurbishment process. The project managers are the crucial lynchpin between their sales team and daily facility activities. Their sales staff is engaged in selling used point of sale equipment on a daily basis. Their executive leaders serve as the company's octane and the ignition.
We are currently recruiting for a Technical Support (#21499), a Helpdesk & Software Specialist (#21498), and a Board Level Repair Technician (#21497). Positions in Illinois.
Big Data Intelligence for Retail
We are looking for a Senior UX Designer (#21502) in either San Francisco or Davis. Our client provides big data intelligence to retail online and in-store shoppers. The Customer Optimization Services are on-demand, comparative retail intelligence and digital marketing services that empower retailers and manufacturers in the fast-moving consumables space.
Are you interested in working with the next generation database of products and prices across in-store, online and mobile channels? Howa about working with a well-funded, early stage start-up founded by experienced entrepreneurs who are building a dynamic senior management team staffed by experienced, expert leaders?
We are also seeking UI/UX Designers for an expanding social mobile platform company with a free location-based services instant messaging application for smartphones for chatting up people in the vicinity.
HealthTech – Wearables
Are you passionate about inventing fun, approachable, and mainstream products that will make a meaningful difference in people's life? This is an opportunity to help build this company's Project Management group from the ground up. We are looking for a Project Manager (#21500) to be responsible for the delivery of multiple software and web based projects for a forward-looking company who is combining technology, psychology, and game design to change how people look at themselves in the mirror.
We are also recruiting for software engineers for this Health Technology / Wearables company: Android Engineer (#20915), Backend Engineer (#21148), Firmware Engineer (#20919) and an iOS Engineer (#21382).
You can find details on these jobs and more fabulous tech career opportunities on our website, or check the Redfish Technology career page on LinkedIn – And follow us while you are there!
Want updates via LinkedIn?
Just "Follow" Redfish Technology's company page.
While you are there: Browse the top 50 jobs we are working on in the Career tab, Read the latest blog posts, network with our recruiters.