Weekly Tech Career Opportunity Spotlight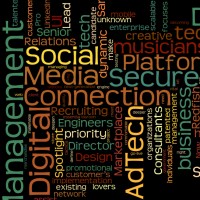 Here are some of the key opportunities that are priority hires for us this week.
You can find details on these jobs and other fabulous tech career opportunities on our website, or check the Redfish Technology career page on LinkedIn.
Follow the Redfish company page for updates on LinkedIn.
This week's priority recruiting focuses on the dynamic tech spaces of Digital Media – AdTech, Social Music Connection, Secure Mobile, and Data Management.
Digital Media – AdTech Platform
This exciting company is leading the targeting and personalization for B2B! Powered by patented technology the technology enables marketers to identify and segment companies on the web and delivers detailed, targetable business attributes in real-time. The company seeks talented individuals with a passion for innovation and customer success. They invest heavily in their people and community, and thrive on a work-hard, play-hard quality of life. Oh, and they are financed by leading Silicon Valley venture capital firms and Adobe Systems!
Now hiring Sales Engineer (#21556) and Solutions Consultant (#21551) in San Francisco!
The Sales Engineers are a vital part of the sales organization. SEs proactively assess the business and technical needs of prospective customers, craft effective implementation strategies for the customer's existing marketing stack, and assist sales reps in closing business by developing, presenting, and demonstrating solutions and proof-of-concept implementations tailored to the customer's business.
The Solutions Consultants assist customers in deploying company's integration with the customer's Digital Marketing products and to ensure proof-of-concepts or customer projects are delivered on-time and on-budget. These implementation project activities include client meetings for requirements analysis and definition, configuration of API integration, enhancement development, testing, and go-live support for clients.
Social Music Connection Platform
This is the perfect opportunity for music lovers! The company unlocks new opportunities for the music industry by connecting musicians, fans and partners on a single platform. More than 500,000 musicians – from Rihanna and Maroon 5 to Matisyahu and Mayday Parade – use this company's platform to reach & build deeper relationships with music lovers everywhere, and make a more sustainable living by engaging with fans in new and creative ways.
We are recruiting for an Artist Relations professional (#21545) in Los Angeles. The ideal candidate is ambitious and highly creative and will expand and deepen the company's artist relationships. You will help your team make company's network an essential platform for musicians and the music business, while also being rigorously focused on the tactical opportunities that result in the immediate growth of the company. You should be just as comfortable hanging out with artists as label executives, and it is a bonus if you have both in your existing contacts.
We are seeking a Director of Marketplace Growth (#21544) in San Francisco. This person will be responsible for managing the ongoing conception, development, deployment and operation of the company's marketplace where musicians offer merchandise, VIP experiences, fan clubs, etc. The network is rapidly becoming one of the most powerful promotional channels available to artists. Your job will be to cement its place as the most powerful promotional and revenue channel for artists of all types. To achieve this, you will need to deeply understand music fans and the way they engage with the musicians they love.
Secure Mobile Communications
This company is rapidly disrupting the tech and healthcare industries changing the way an entire industry communicates. The company is the leader in secure, real-time dynamic messaging for the enterprise. The company's powerful goal: empower organizations and individuals to securely communicate with their mobile phones. In a world where every email, every SMS and every data bit we ever created lives on forever in some computer server, owned by some unknown company, in some unknown location we believe impermanence should be an inalienable right.
Now searching for a UI Design Lead (#21551) in Santa Monica. You will work closely with Product Management to translate a vision into useful designs, flows, interactions, and user experiences. You will have the opportunity to define each product's creative vision; work with Engineering to ensure that the UX and UI always meet your vision.
Data Management
This leading distributed, scalable data management technology company with patented distributed data engine and persistent object store technology is hiring. The technology powers some of the most complex applications and mission critical systems used in commercial, enterprise, government and research organizations today.
We are looking for a world-class, talented and adventurous C++ Senior Software Engineer (#21553) in San Jose. The ideal candidate likes working in a fast-paced, dynamic environment and enjoys working on projects from concept to completion. The Software Engineer will be joining a great team of engineers building the next-generation scalable, distributed database management system. You should have senior-level experience in C++, UNIX, Linux, and Windows.
Want updates via LinkedIn?
Follow Redfish on LinkedIn and get job updates, career advice, hiring best practices, and recruiter perspectives. Just click on "Follow" on Redfish Technology's company page.
We Pay a Referral Fee
Do you know someone who would be a perfect fit for one of the positions above? Contact us to ask about our referral program.