By Heidi Clark & Rob Reeves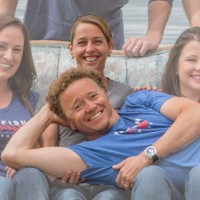 Feeling the Love?
"When you are doing it right, your staff will let you know," asserts Rob Reeves, CEO at Redfish Technology – an award-winning nationwide tech recruiting company. "If you aren't hearing appreciation and feeling the love, you need to take a look at what you are creating."
Return on Investment
The focus on company culture is an investment worth making on many fronts.
Attracting and retaining talented, dedicated staff is all the more easy when people know about your company and want to work for you. "Recruiting is a tough business, and it takes very intelligent and motivated professionals to do the job well," reflects Heidi Clark, CHO at Redfish. "Keeping employee turnover down and having a pipeline of talent is as important for our business as it is for our clients, and having a company renowned as a great place to work makes that much easier to manage."
Customer loyalty is critical to all companies. "Our clients' loyalty is one of our greatest assets, and it is earned through each and every interaction with our recruiters because of the care they take in making placements that are a win for everyone," adds Reeves. "Study after study has demonstrated very clearly a strong and direct link between an organization's customer loyalty and the level of engagement of their employees," reports Paul Butcher, the Director of Research at POPULUS.
It Works!
The focus on company culture is apparently working! Redfish Technology has taken the blue ribbon two years in a row. In 2013 and 2014, the company was voted #1 in its category in the "Best Places to Work in Idaho" competition put on by the Idaho Business Review and POPULUS.
How To
Redfish Technology prides itself on its attractive company culture. "The goals that we have for Redfish are simple but need constant attention," affirms Heidi Clark, Chief Humanities Officer at Redfish Technology.
"The environment that Redfish strives to create and nurture are:
1. People have the opportunity and earning potential to achieve their long term career goals.
2. People are developing skills that are applicable and will benefit them both inside and outside the work environment.
3. Communication is based on respect. Conflict is resolved with open dialogue.
4. Individual needs are accounted for within a team-oriented environment.
5. People are having fun and doing what they are passionate about.
6. There's a culture of self-improvement and inspiration.
7. Integrity is paramount and it is discussed.
8. Work is seen as an integral part of life not a means to an end nor the end itself."
This culture is enhanced by company offered benefits and perks. Redfish offers health insurance and 401K matching, but there's much more.
The company offers recreational reimbursements, powder days, and employee fun outings like friendly gold competitions against other recruiting firms, the annual camping trip at Redfish Lake, and night out to see The Second City  each year.
There's a also slush fund for employee bonding trips that generally combine team building, personal development, and company relationship building. The team went to San Francisco recently to visit with clients and then headed to wine country to enjoy some culinary delights. Last year the team went to Las Vegas and ran in the Rock'n'Roll half and full marathon.
Long lunches are offered to encourage time for the gym, running, hiking and yoga, which staff often do together. Fresh fruit and healthy snacks are office staples, there's a company cruiser available in the office, the list really does go on…
These are important differentiators and they that reinforce and celebrate the company's goals. Each winning company defines and supports their own company's cultural and business goals in unique and attractive ways.
Redfish Technology – www.redfishtech.com
Building Growth-Mode Tech Companies with Hand-Picked Talent