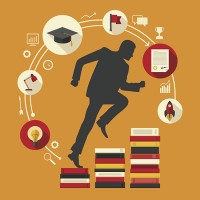 To advance in your career it's important to acquire as much knowledge and as many skills as possible. In order to achieve these goals, obtaining certain certification credentials is an outstanding idea. The following four certifications are all surefire ways to advance your career:
Certified in Risk and Information Systems Control (CRISC)
The non-profit group ISACA offers the Certified in Risk and Information Systems Control certification, Global Knowledge notes. The program is designed for project managers, IT professionals and other workers whose jobs focus on managing risks with Information Systems controls. Since this certification was introduced about four years ago, almost 20,000 people around the world have earned it. In order to become CRISC certified, you must have three years of experience in several areas the certification process covers, and you must pass a rigorous exam. People who obtain this certification typically earn in the $118,000 range.
Certified Sales Executive
This certification program is ideal for people whose work revolves around sales in some way. From sales directors of car dealerships to chief sales officers of corporations, earning a Certified Sales Executive certification will allow you to place the "CSE" designation on your business cards, which is essentially the Holy Grail for sales professionals. In addition to letting clients know that anything you do is backed by a powerful code of ethics, having a CSE can really help you do better in your day to day sales jobs.
For example, if you work in insurance, obtaining this type of certification will allow you to be well-equipped to utilize the lead management tools available through websites like QuoteWizard. Although how the CSE impacts salary varies greatly depending on where you work and what your responsibilities are, it's safe to say it will have a positive effect on your bottom line. Should you decide to apply for another sales position, it's an outstanding certification to add to your resume.
Project Management Professional
The Project Management Professional, or PMP, is the most common project management certification you can obtain. Around half a million people around the world have earned this important certification from the Project Management Institute. For people whose careers revolve around project management, this certification was tailor-made for you—the training and testing revolve around five specific areas that all relate to a project's life cycle. These are: planning, monitoring and controlling, initiating, executing and closing. A nice bonus of the PMP certification is that it applies to people who work on just about any type of project through their work. In order to obtain the certification, you must have at least 7,500 hours of experience in project management as well as complete 35 in-depth hours of training. People who earn a PMP can typically earn an annual salary in the $108,000 range.
Senior Professional in Human Resources
Earning professional certification in human resources is a terrific way to advance your career. In addition to teaching you the best ways to manage human resources, it also covers subjects like employee recruitment. As U.S. News University notes, a Senior Professional in Human Resources certification is perfect for people who have been working in the field for at least six years and who focus on planning HR policies at work. In general, people who earn this type of certification typically make about 90 percent more than those who have not earned a certification at all, or around $88,000 per year.