Weekly Tech Career Opportunity Spotlight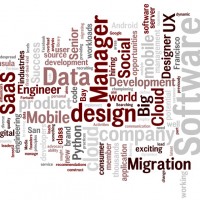 This week, our priority recruiting efforts focus on: Social Media/Community Success Manager, Lead UX Designer Data, Mobile Software Engineers – Internet Big Data; Senior Software Engineer / Python – Cloud Migration SaaS Integration; Product Manager – Software Development, and more.
Internet Big Data
Interested in something new for the internet? Big data sexy? Practical? Social too? This is the company for you! Our own personal recommendations network will streamline information to outsmart the overload.
We are recruiting for several exciting opportunities in the San Francisco Peninsula. The Social Media/Community Success Manager (#21644) will lead daily interaction and communication with users, and design, construct and engage a passionate user community that aims to ensure widespread customer satisfaction and breed advocacy.
We also need UX Designers and Mobile Developers – the company is hiring a Lead UX Designer Data (#21645) to work closely with the founders and an experienced team (previously from Google, Facebook and LinkedIn). This role will be responsible for all design aspects of our consumer product, UI/UX Design, mobile design, website design, and brand design. Mobile Software Engineers are needed (iOS #21599) (Android #21598) who are comfortable working at all levels of the development stack (storage, server, multiple mobile platforms). These developers will design and build high quality, modern consumer mobile user experiences, and define and implement APIs (library and network) for mobile apps.
Cloud Migration SaaS Integration
This is a fantastic opportunity to work in the Silicon Valley with a privately-held software company whose Cloud Migration SaaS sets the standard for migrating server workloads over the last mile into the cloud and intelligently brokering workloads between cloud locations once there.
Now hiring a Senior Software Engineer / Python (#21637) – You will be a member of the development team, working on exciting new products that have the potential to change the market dynamics among cloud service providers, and be an integral member of a team building first-of-their-kind cloud applications. As part of the back-end engineering team, you will work in a dynamic, open environment. You will employ agile principles, the latest techniques and best practices in back-end engineering as well as utilize the best in class tools and frameworks to build a scalable, enterprise-class, SaaS application for the cloud.
Software Development
This company leads the world in version management of source code and all type of digital assets. Backed up by world class technology, they offer the trusted standard for companies that wish to manage their assets throughout the application life cycle. Hundreds of thousands of developers and thousands of companies use these products, from Fortune 500 companies, to world brand leaders and influencers in diverse industries.
A Product Manager (#21630) is sought in the East Bay (CA) who has the ability to identify and measure the potential for complex technologies to solve business problems across different industries. Activities include in-depth analysis of product opportunities, and owning, defining and championing product strategy and roadmap, as well as providing ongoing prioritization of investment areas and product features to maximize revenue.
Search all jobs
Above are some of the key opportunities that are priority hires for us this week. You can find details on these jobs and other fabulous tech career opportunities on our website.
Want updates via LinkedIn?
Follow Redfish on LinkedIn and get job updates, career advice, hiring best practices, and recruiter perspectives. Just click on "Follow" on Redfish Technology's company page.
While you are there: Browse the top 50 jobs we are working on in the Career tab, Read the latest blog posts, network with our recruiters.
Redfish Technology: Building Growth-Mode Tech Companies with Hand-Picked Talent.