Weekly Tech Career Opportunity Spotlight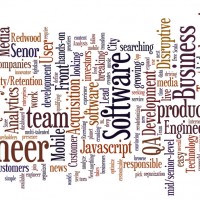 This week, our priority recruiting efforts is for Front End Engineer, Ruby Engineer, Quality Assurance Manager, Engineering Manager – Real-time Media Platform; Mobile QA Engineer, DevOps Lead, User Acquisition Manager – Disruptive Software; Software Development in Test – Business Intelligence & Analytics, and more.
Real-time Media Platform
This company brings you the world's largest collection of social signals organized by time, location and content – indexing and curating breaking news and events faster than any organization on the planet so that you have an all-access pass to anything, anywhere. You can browse music, sports, breaking news, and more to explore real-time posts from the people who are there, seeing it live. Picture the internet as a live feed, this is it! The app is available for free in the App Store and in Google Play.
This Redwood City company is hiring! Looking to expand its web presence, we are searching for a mid/senior-level Front End Engineer, Javascript (#21670). We are also looking to hire a Senor Ruby Engineer (#21669), the perfect candidate is a multi-talented full stack innovator and a laser-focused backend engineer that is always cranking at high gear. We are seeking a dynamic Quality Assurance Manager (#21668) to lead a growing QA Team to the next level. Need an Engineering Manager (#21667) to apply hands-on software development/architecture skills and lead a software development team. As a start-up company, these positions require high adaptability and carry a wide range of duties and overall support to the team and company.
Disruptive Software – Customer Loyalty/Retention Technology
This disruptive software company creates financial products that make it simple and easy for consumers to buy stocks online. Offering fee-free investing to small investors by convincing companies that it's in their interest to pick up the investment costs to turn loyal customers into shareholders. The company takes other steps to make it less costly for companies to communicate and service those small investors. This San Francisco company is growing like gang-busters.
We are looking for a highly motivated Mobile QA Engineer (#21641) to help test our mobile products. You will join a dynamic team responsible for qualifying the latest iOS & Android products. Hiring a very hands-on DevOps Engineer/Lead (#21627) to work closely with engineering and operations. The company has a Scala based open source platform and they follow agile development practices.  Recruiting for a User Acquisition Manager (#21521) to be responsible for driving the acquisition of new users, through digital and traditional channels, define media strategies, negotiate media buys, operate ad platforms, and analyze and optimize campaigns.
Business Intelligence & Analytics
Work with this dynamic company that is revolutionizing the way enterprises and businesses leverage data by efficiently generating actionable Business Intelligence and putting it in the hands of Business Analysts in an easy to use, customizable dashboard format.
We are searching for a Software Development Engineer in Test (#21633) in Redwood City to work with a tightknit team who has deep experience in the enterprise information management industry and has built successful startups in the past. If you want to build ground-breaking products, transform the lives of customers and drive a culture of results and confidence, without arrogance, this is the team for you.
Search all jobs
Above are some of the key opportunities that are priority hires for us this week. You can find details on these jobs and other fabulous tech career opportunities on our website.
Want updates via LinkedIn?
Follow Redfish on LinkedIn and get job updates, career advice, hiring best practices, and recruiter perspectives. Just click on "Follow" on Redfish Technology's company page.
While you are there: Browse the top 50 jobs we are working on in the Career tab, Read the latest blog posts, network with our recruiters.
Redfish Technology: Building Growth-Mode Tech Companies with Hand-Picked Talent.