Weekly Tech Career Opportunity Spotlight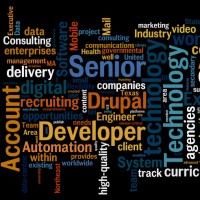 This week, our priority recruiting efforts are for Automation Developer & Senior Software Engineer – Security Industry; Manager Technology & Senior Drupal Developer – Technology Consulting; System Administrator – Enterprise Video; Account Executives – eLearning, and more.
Security Industry
Want to work for the leading expert in data-centric encryption and tokenization? This company provides data security solutions for some of the largest merchants and retailers, and top banks and payments processors. It was created to solve the industry's biggest problem: making encryption and tokenization of data simple for even the most complex use cases, this company has solved this challenge through cryptographic innovations. Join a creative team in solving complex problems that the world's largest companies depend on to keep their sensitive information safe. This company has also been voted one of the best small companies to work for in the Bay Area.
We are recruiting for a highly motivated Automation Developer, Mobile Mail (#21676). The successful candidate will work in a fast-paced, small company environment to deliver Mobile Mail automated applications and tests across multiple platforms. The company is also hiring for a Senior Software Engineer, Big Data Team (#21673) to work as a key team member providing security solutions for Hadoop as part of the company's product line. This person will take ownership of major features and components of big data solutions.
Technology Consulting
We have great career opportunities in the DC area. Work with a leading provider of consulting, technology, and marketing services to a wide array of U.S. governmental agencies. This company is focused on driving long-term change and transforming the citizen experience. They use technology to help agencies become more accessible and transparent. With a track record of delivering mission-critical solutions and the ability to leverage commercial best practices, they serve as trusted advisors to government agencies such as the Federal Bureau of Investigation, Library of Congress, National Institutes of Health, United States Department of Health and Human Services, and United States Department of Homeland Security.
We are searching for a Manager Technology, Drupal (#21675) to oversee the development, design, user interface, technology integration, and site architecture management.  Additionally, this role will be responsible for managing technology teams from definition phase through implementation, as well as contribute to the sales cycle. Also hiring a Senior Drupal Developer (#21674) to provide technical leadership to the project team by taking responsibility for a specific component or track of the project architecture.  This includes planning, estimation, people management, issue resolution and quality assurance.
Enterprise Video
Interested in high-quality video delivery? Our client's technology enables enterprises to deliver high-quality video communications to their employees and partners worldwide utilizing existing network infrastructure and capacity. The company's peer-assisted delivery technology is used to publish, protect, deliver, and track digital media content by global enterprises and broadcasters worldwide.
We are recruiting for a System Administrator (#21662) to work on problems of diverse scope where analysis requires evaluation of identifiable factors. The company's network- friendly protocol, fine- grained controls, edge throttling and client application flexibility gives enterprises and media companies ultimate control and flexibility while providing efficient and scalable content delivery. Position open in Sunnyvale.
eLearning
This company just keeps growing – it provides digital curriculum for secondary education to the nation's school districts. The company's comprehensive, standards-based online courses help schools successfully engage all students in rigorous coursework and prepare them for high school graduation and beyond. Districts are successfully using company's digital curriculum to meet needs ranging from credit recovery to original credit, from building foundational skills to creating opportunities for advanced coursework, and from distance learning to classroom-based programs.
Success and growth means we are looking for more Account Executives in Western Texas (#21640) and Northeast CT, MA, VT, RI, NH, ME (#21647). Talented Account Executives will have virtual offices and travel within assigned territory. The new Account Executive will be responsible for achieving an annual renewal and growth target for the sale of digital curriculum solutions to existing clients in a defined territory.  The Account Executive develops excellent relationships and business communications within their territory, as well as representing client needs and goals within the organization, to ensure a renewing and growing client base.
Search all jobs
Above are some of the key opportunities that are priority hires for us this week. You can find details on these jobs and other fabulous tech career opportunities on our website.
Want updates via LinkedIn?
Follow Redfish on LinkedIn and get job updates, career advice, hiring best practices, and recruiter perspectives. Just click on "Follow" on Redfish Technology's company page.
While you are there: Browse the top 50 jobs we are working on in the Career tab, Read the latest blog posts, network with our recruiters.
Redfish Technology: Building Growth-Mode Tech Companies with Hand-Picked Talent.