Weekly Tech Career Opportunity Spotlight
This week, our tech recruiting priorities are: Director of Sales, Partner Development Manager, Sales Specialist Leads Generation – EdTech; Full-Stack Software Engineer – AdTech; Senior Server Engineer – Enterprise Big Data and more.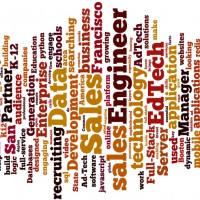 Happy New Year! – We have great new opportunities to make 2015 an exciting career year for you!
Education Technology
Redfish is recruiting for several dynamic eLearning and EdTech companies at the moment. We are searching for a Partner Development Manager (#21752) for a Boston area EdTech startup that began as part of a business accelerator program, the company brings the power of public radio into the classroom with essential Common Core listening skills. We are looking for an experienced and talented Partner Development Manager to help grow the network of schools. Position may be remote.
We are recruiting for a Director of Sales (#21741) for a San Francisco EdTech company that is the fastest growing company in K12, with technology used by over 1 in 5 schools in America. The mission is to make powerful educational software easy to build and easy to deploy. With the objective of being used in all 13,000 school districts in America, especially the small and medium sized ones that make up the vast majority, we are recruiting for a sales professional who know schools and who has built an SMB inside sales team with outstanding results.
We are searching for a Sales Specialist Leads Generation (#21750) for an EdTech company in the State College area. This company has been building and hosting K-12 school websites for more than 10 years; the content management system, mobile solutions, and services are designed with K-12 needs in mind. The Sales Specialist (SS) is responsible for filling the sales funnel with qualified opportunities enabling the sales process to be more efficient and the sales makers to be more effective. We are looking for a lead generation specialist to drive new sales; the ideal candidate will develop the company's opportunity pipeline through the creation of sales leads, initiation of prospect calls, and establishment of ongoing rapport with existing and potential customers.
Big Data / AdTech
We are recruiting for a Full-Stack Software Engineer (#21754) for a San Francisco Ad-Tech company. This company offers digital media and content platform for engaging audiences. With more than 1,000 publishers organized across multiple lifestyle and business verticals, the company has helped the world's leading brands reach over 125 million consumers across the globe that invest in their passions at work and play. The full-service marketing capabilities encompass display, video, mobile, social, and audience targeting to effectively engage the most valuable audience online at scale. This is the premier media destination where influence meets affluence. The full-stack engineer will design and build ad tech solutions that span multiple technology layers- from front-end (javascript, node.js) to business logic (python) to Databases (redis, sql). The team is growing and this is an ideal time to join this dynamic team.
We are searching for a Senior Server Engineer (#21745) for an Enterprise Big Data firm in San Francisco. This is an exciting opportunity to work for the leader in Big Data application infrastructure. The company's flagship enterprise solution was designed to accelerate the development and management of enterprise data applications. Used by thousands of businesses this company's technology is the de facto standard in open source application infrastructure technology.  The Senior Server Engineer will be a key contributor and core team member of the development team. You will be architecting and building a product used by some of the largest companies in the world to manage some of the most sophisticated Big Data applications. Get in on the ground floor with and help shape the future of Enterprise application management.
Search all jobs
Above are some of the key opportunities that are priority hires for us this week. You can find details on these jobs and other fabulous tech career opportunities on our website.
Want updates via LinkedIn?
Follow Redfish on LinkedIn and get job updates, career advice, hiring best practices, and recruiter perspectives. Just click on "Follow" on Redfish Technology's company page.
Redfish Technology: Building Growth-Mode Tech Companies with Hand-Picked Talent.