2015 Hiring Strong, But Top Priorities Often the Hardest to Recruit For
Recruiting, Staffing & Employment News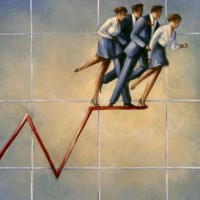 The year has started strong with hiring for Sales Reps, Account Executive, Sales Specialist Leads Generation, Partner Development Manager, Senior Android Engineer, and Senior Web Developers. The most action was in the Cloud Hosting, eLearning, EdTech, K-12 Websites, and Mobile Application sectors.
Dice's January hiring report affirms that tech professionals are in high demand and are enjoying a market in which they can be very selective about the opportunities they pursue and they have the power to negotiate. Hardly coincidental, companies are finding it hardest to recruit their top choices to their top hiring priority positions. Dice's toughest to fill positions are: Software Developer/Engineers, Java professionals, .NET engineers, Security, and Sales roles.
Low unemployment rates and in high demand, tech professionals not only have the power to negotiate, but they have the ability to be selective. As a result, companies are finding landing top tech talent is not an easy feat. Dice asked customers which positions are most difficult-to-fill. And it seems as though companies' top hiring priorities prove to be the tough recruits.
"The economy barreled through the last three months with strong momentum, the Labor Department said Friday, as American employers added 257,000 jobs in January, wage growth rebounded and more people went looking for work in an improving labor market. With new figures on the last two months of the year, 2014 turned out to be the strongest year for job gains since 1999," reported the Wall Street Journal. The Bureau of Labor Statistics reported that the sectors driving job growth in January were: Retail trade + 46,000; Construction +39,000; Health Care + 38,000; Financial +26,000; Manufacturing +22,000; Professional and Technical Services + 33,000, and Food Services and Drinking Places +35,000.
The Philadelphia Fed's leading indexes suggest expansion in 49 states over the next six months. And the Conference Board's consumer confidence index rose to 102.9 in January hitting its highest level since August 2007. The Wall Street Journal quotes Lynn Franco, director of economic indicators at the board: "A more positive assessment of current business and labor market conditions contributed to the improvement in consumers' view of the present situation. Consumers also expressed a considerably higher degree of optimism regarding the short-term outlook for the economy and labor market, as well as their earnings."
The National Association for Business Economics' Business Conditions Survey declares that the economy is still on solid ground. "Business conditions continued to improve in the fourth quarter of 2014," said NABE President John Silvia, chief economist for Wells Fargo Securities. "There are strong expectations for the first quarter, especially for jobs and wages, backed up by strong capital spending. Moreover, price and cost pressures appear to be subdued."