Rob Reeves was named "Idaho Business Leader of the Year', President and CEO of Redfish Technology is the 56th honoree.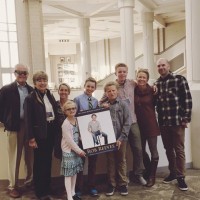 Last week Rob Reeves, CEO of Redfish Technology was celebrated by Alpha Kappa Psi business fraternity at Idaho State University. Reeves was joined by two managers at Redfish, Leah O'Flynn and Jon Piggins. They spent several days at ISU speaking in classes at the business school, engaging with students, and meeting with members of the university as well as the local business community.
Named the Idaho Business Leader of the Year for 2015, Reeves joins an illustrious list of Idaho business leaders. The IBLOY started in 1959, and has honored many business leaders such as Harry W. Morrison, Morrison-Knudson (1962), J.R. Simplot, J.R. Simplot Company (1963), Cecil Andrus, State of Idaho (1971), Robert D. Bolinder, Albertson's (1975), Carolyn Ticknor, Hewlett-Packard (2000), Douglas A. Sayer, Premier Technology, Inc. (2009), and Charley Jones, Stinker Stores (2011).
"The students at Idaho State University rolled out the red carpet for Rob. It was an honor to stand next to my CEO as he received the credit he deserves as a leader and mentor," reported Leah O'Flynn, Director of GROWTH (Great Returns ON Worldwide Tech Humanity)."I am confident we helped the students prepare themselves for the workforce and feel many of them are headed for a successful career path. Alpha Kappa Psi gave Redfish Technology an opportunity to influence many people and I hope these opportunities continue coming our way."
This award is distinctive at ISU because the nomination and the selection of the honoree are completely student-driven. The students spend several months conducting the selection process and then planning a spring celebration with the winner. The students start by request nominations from across Idaho. Each person nominated is then evaluated by the members of Alpha Kappa Psi on a number of criteria: recognition of the nominee's stature as a business leader within the business community, involvement in community service, evidence of support for higher education, and the candidate's reputation as an ethical businessperson and role model for our students.
"It was extremely rewarding to meet with such engaged and bright future business leaders who have an eye to their role in the community", stated Reeves. "It was quite an honor to be chosen as IBLOY, and a great time celebrating with Alpha Kappa Psi and Idaho State University at the banquet. I want to send a big thanks to all the family and friends who rallied from all different directions to be there!"
About IBLOY:
The Alpha Kappa Psi Idaho Business Leader of the Year award annually recognizes an Idaho business leader who has demonstrated outstanding business and professional ethics while contributing significant support to worthwhile community, civic and educational activities. Awarded by the brothers of Alpha Kappa Psi since 1959, previous honorees have included a congressman, former governors, entrepreneurs, and leaders of some of Idaho's largest companies. The recognition program is the longest-standing one of its kind in Idaho.
About Redfish Technology:
Building Growth-Mode Tech Companies with Hand-Picked Talent.
Founded in Silicon Valley in 1996, Redfish Technology is an award-winning talent acquisition firm specializing in high tech sectors. Partnering with growth mode companies, small and large, Redfish staffs executive functions and builds out the teams below. Redfish knows talent and good companies – we've been named #1 Best Places to Work in Idaho three years in a row!