For the Third Year in a Row, Redfish Leads the Pack in the Micro Business category.
On April 16, 2015 Redfish Technology was named the #1 Best Place to Work in Idaho. The award ceremony took place at the Boise State Campus Double R Ranch Club overlooking the city of trees. In its eight year, the Best Places to Work award program had a record number of entries.
The Best Places to Work in Idaho is a data-driven program – created by POPULUS, a marketing and research firm – that confidentially surveys employees in order to measure and compare employers across five dimensions of the work place. Winners are selected based on their employee ratings in the areas of: compensation and benefits; employee growth and development; work life balance; workplace environment; and organizational management.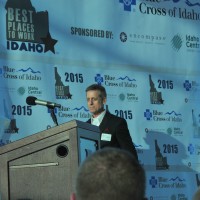 This is a "three for three" for the company, and the employees and owners couldn't be more delighted! "Being recognized as an employer of choice validates all the effort we put into creating an awesome workplace culture," stated Rob Reeves, CEO and President of Redfish Technology. "We pack a big punch for a little company in terms of work-life balance and professional opportunities in a small community."
Being honored as a BPTW company is important because the recognition attests to a company's commitment to its staff, customers, and community. "We truly care about our Redfish family and our community," affirms Heidi Clark, Chief Humanities Officer at Redfish Technology. "And we believe that people care more about organizations that truly care about people".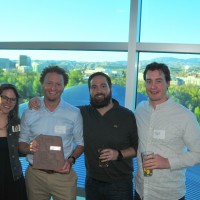 Redfish is headquartered in the Sun Valley area, in beautiful Hailey, Idaho, and works nationwide recruiting top tech talent to help build growth-mode tech companies. The management is committed to a career growth and work-life balance for employees, as well as fostering health, recreation and fun as a key part of the work-hard/play-hard culture. The company also offers employee-led initiatives to volunteer and donate to local organizations as well as offering several corporate sponsorships in an on-going basis.
In fact, this staff and community commitment won the attention of the Alpha Kappa Psi professional business fraternity at Idaho State University, who has named CEO Rob Reeves the "2015 Idaho Business Leader of the Year". The award annually recognizes an Idaho business leader who has demonstrated outstanding business and professional ethics while contributing significant support to worthwhile community, civic and education activities.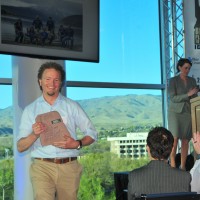 Media Contact:
Anna Mathieu
Redfish Technology
416 S. Main Street Hailey, ID 83333, 208-788-8260
142 N. Milpitas Blvd. Milpitas, CA 95035, 408-475-8260