Weekly Career Recruiting Spotlight
Full Stack, Software Development, Test, Systems, & DevOps Engineers, Product Marketing Manager, and more!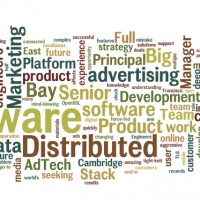 This week, our tech recruiting priorities are: Full Stack and Software Development Engineers in Test, Principal Engineer Distributed Computing, Software Engineer Infrastructure Team, DevOps Engineer – Big Data Analytics; Senior System Software Engineer – Distributed Computing; Product Marketing Manager – AdTech Platform; and more!
Big Data Analytics
Work with the Big Data Analytics company that is changing the way people prepare data for ad-hoc analytics. They are driven to build, sell and support a solution that empowers everyone to quickly turn raw data into ready data. They are tackling the data preparation crisis with the combination of breakthrough technology, a mind-blowing user experience and a relentless commitment to solving real customer problems. The company doubled their engineering team in the 2nd half of 2013, again in 2014 and with the remainder of 2015 they are looking to do it again.
Recruiting in the East Bay for many positions on a tight-knit team of experienced and diverse problem solvers with track records of writing complex software, closing deals, and delivering customer success. If you value results and learning, check out these positions: Full Stack Engineer in Test (#21936), Software Development Engineer in Test (#21938), Principal Engineer Distributed Computing (#21939), Software Engineer Infrastructure Team (#21940), and DevOps Engineer (#21941).
Distributed Computing       
These engineers develop software to get the best possible performance from the world's largest distributed computing platform. When the code they write affects virtually every internet user and a mistake could have billions of dollars of impact for the largest internet businesses, you need the best software engineers out there. The opportunity to shape the future of the Internet and work in the middle of cloud computing, next-gen media, and connected devices has always attracted amazing people who want to change the world.
We are seeking multiple professionals in the Bay Area and in Cambridge: Senior System Software Engineer (#21943) to work on software that runs one of the largest distributed systems in the world. You will be an integral part of the aggressive growth strategy for creating highly innovative technology solutions for the customers, driving more and more traffic on the Internet. We are seeking engineers to focus on design and development of core features in the platform to make online transaction more secure. Ideal candidates will have deep knowledge in secure Internet protocols and their implementation, specifically TLS and OpenSSL, and a basic understanding of cryptography.
AdTech Platform
The future of advertising will be about thoughtfully integrating brand content on sites people love to go to, not slapping ads in an ugly box, banner or force-fed pre-roll. The company has built a native advertising platform from the ground up to make that vision a reality.
We are recruiting for a Senior Product Marketing Manager (#21932) in San Francisco to work directly with the Product and Marketing teams to develop go-to market strategy, positioning and marketing materials for the suite of in-feed advertising products. This is a new role to be filled by an entrepreneurial self-starter with a successful track-record of product marketing in the online advertising and/or digital media startup space. We are looking for someone with deep marketing and analytical abilities, who has demonstrated experience working with product and engineering teams and the ability to steer the full process of product marketing from concept to execution.
Search all jobs
Above are some of the key opportunities that are priority hires for us this week. You can find details on these jobs and other fabulous tech career opportunities on our website.
Want updates via LinkedIn?
Follow Redfish on LinkedIn and get job updates, career advice, hiring best practices, and recruiter perspectives. Just click on "Follow" on Redfish Technology's company page.
Redfish Technology: Building Growth-Mode Tech Companies with Hand-Picked Talent.