Sun Valley Wellness Festival & The Men of Wellness.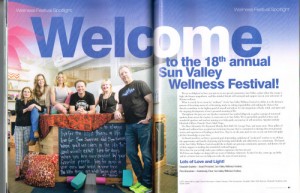 Premier Wellness Event
Recognized as one of the top wellness events in the US, this year's Sun Valley Wellness Festival brought together over 20 top speakers, writers and practitioners addressing body, mind, and spiritual wellness, including Alan Cohen of Chicken Soup for the Soul, anti-aging pioneer Dr. Uzzi Reiss, yoga master Saul David Raye, author of Eat, Pray, Love Elizabeth Gilbert and others came to inspire the valley to be well.
The Sun Valley Wellness Festival defines wellness as "the dynamic process of becoming aware of, or becoming awake to, taking responsibility and making the choices that directly contribute to the highest good of oneself and others. It's the integration of body, mind, and spirit and the ongoing development of one's personal meaning of life."
The Men of Wellness:  Scott Carlin, Rob Reeves, and Nick Maricich
The Sun Valley Property News did a piece that focused on the folks who made this festival happen, including the "Men of Wellness": Scott Carlin, Rob Reeves, and Nick Maricich. Each of these Wellness Festival board members brings a personal perspective that is refreshing and earnest.
As CEO and President of Redfish Technology, Rob has long been interested in combining wellness and the workplace. Rob strives to have a healthy work atmosphere and work/life balance for all who work there. This includes discussing conflict resolution productively, challenging and stimulating the team with personal and professional growth reading and discussions through books and TED talks. And incorporating fitness and health into the work place via gym/yoga reimbursements and team trips to participate in the Vegas Rock n Roll Half Marathon.
Read Hayden Seder's article on the Men of Wellness at http://www.sunvalleypropertynews.com/blog/?p=4084
Be well!