Weekly Career Recruiting Spotlight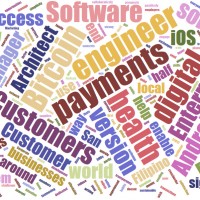 This week, our tech recruiting priorities are: Enterprise Architect, Customer Success Manager – FinTech; iOS Engineer, Android Engineer – Digital Health; Product Managers – Software Version Management; and more!
E-Payments, Bitcoin Financial Services
This next-generation FinTech global payments facilitator enables businesses to quickly and securely send and receive payments in local currency. For example, A U.S. buyer of Filipino supplies sends its payment to the supplier in dollars. Our client exchanges the dollars for bitcoin and sends the bitcoin to a local Filipino bitcoin exchange, which then converts the bitcoin into pesos, sending them along to the supplier's bank. Using the Bitcoin network this way, customers can save around half the cost and relay payments in half the time, relative to the legacy cross-border payments system. In addition, customers gain greater transparency of payment movement, a significant pain point felt by SMBs using the legacy payments system that's assuaged partly by the public nature of the blockchain.
Now hiring in San Francisco for an Enterprise Architect (#22012) – the ideal candidate will be an experienced software professional with significant expertise providing technical leadership and guidance for the development and delivery of business critical, high transaction solutions and supporting systems to enable online cross border payments for businesses in the United States. He or she will have hands-on experience developing and designing the AC platform and web services as well as applying software solutions to solve business problems. We are also recruiting for a Customer Success Manager (#21997)/Onboarding Specialist who will be responsible for onboarding and supporting new users, customers and prospects. Working closely with our Marketing and Business Solutions teams, you will use your strong communication skills and technical know-how to wow Business, Corporate and Enterprise customers as you help them complete their first series of money service transactions on our online payments platform.
Digital Health
This 40-person digital health company is on a mission to reduce chronic disease by positively impacting the one thing everyone does each day: eat. They empower individuals by providing convenient, affordable and healthy solutions around food that enable them to enjoy their lives with friends and family. The San Francisco-based company works with employers, health plans and other wellness partners looking for an easy way to engage their members in healthy and sustainable eating habits at work and at home.
We are recruiting for an iOS Engineer (#22009) driven by the pride and satisfaction of building something end to end. We are also searching for an Android Engineer (#22017) who enjoys working in a small team (you'd be the second dedicated Android engineer) and making a big impact! You enjoy writing clean, well-organized code with the emphasis on simplicity and performance. Attention to detail is second nature for you and you've done enough projects to instinctively know what works, and what doesn't. You love a challenge and thrive on opportunities to innovate collaboratively. You want to be part of a fast-moving startup environment. You have a personal interest in health and wellness and can get behind the mission.
Software Version Management
Backed up by world class technology, our client leads the world in version management of source code and all type of digital assets. The company is the trusted standard for companies that wish to manage their assets throughout the application life cycle. Today, over 380,000 developers and 5000 companies use our client's products. Customers include many Fortune 500 companies, world brand leaders, and influencers in diverse industries.
We are recruiting for multiple Product Managers (#21630) to help evolve the world's most advanced digital asset management technology. These positions, based in Alameda, require an ability to identify and measure the potential for complex technologies to solve business problems across different industries.  If you are smart, creative, nimble, and flexible, you'll probably fit well within the team.
Search all jobs
Above are some of the key opportunities that are priority hires for us this week. You can find details on these jobs and other fabulous tech career opportunities on our website.
Want updates via LinkedIn?
Follow Redfish on LinkedIn and get job updates, career advice, hiring best practices, and recruiter perspectives. Just click on "Follow" on Redfish Technology's company page.
Redfish Technology: Building Growth-Mode Tech Companies with Hand-Picked Talent.