Jobs report okay, not great, not terrible – You ought to be in tech!
Recruiting, Staffing & Employment News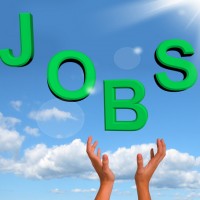 Tech jobs are sizzling despite the cloud coverage! In June there was heavy hiring in Cloud Hosting, Mobile Connectivity, Virtual and Augmented Reality Games as a Service, and E-Payments, Bitcoin Financial Services. The roles in highest demand were: Customer Success Manager, Lead Platform Engineer, Demand Generation Manager, and Linux Technical Support.
The jobs report showed an increase in payrolls of 223,000 in June (average for the year to date), and the unemployment rate declined to 5.3%. Job market participation has slipped to its lowest level since October 1977 and wages appear stagnant however. Job gains occurred principally in: professional and business services increased (+ 64,000), health care (+ 40,000), retail trade (+ 33,000), financial sectors (+ 20,000), transportation and warehousing (+ 17,000), and food services and drinking places (+30,000). Consumer sentiment rose a hefty 6% from May to June despite a lackluster quarterly growth rate for the economy.
A hiring surge in California is pushing the state to record employment levels; topping 16 million for nonfarm payroll jobs. That is now 3.6 percent above the July 2007 employment peak. This hot job growth is putting increasing pressure on wages and the cost of living, particularly in Silicon Valley.
Silicon Alley is powering the Big Apple, its tech sector is now almost as large as the city's other traditional sectors of healthcare, legal, finance, and retail. The top three skills currently in demand there are: application and software development, e-commerce, and database administration.