5 Tips for a Successful Lunch Interview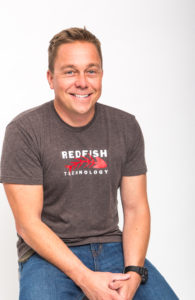 By: Jon Piggins, Director of Business Development @ Redfish Technology
In today's busy world where time is at a premium, we're seeing more of our clients scheduling lunch interviews with our candidates (everyone has to eat, right?). In addition to convenience, holding an interview out in public offers a unique opportunity to gain insight you just don't get in a conference room or office setting. Here are 5 tips to help you prepare for the next time you're invited to meet with a prospective employer over lunch.
1. Be courteous to everyone (hearing "please" & "thank you" never gets old)
This is where the value of a public setting for your interview comes into play. Your potential employer will be evaluating the answers you provide to their questions just as they would in the office, but they'll also be looking for cues to indicate how you might be a personality & cultural fit for their team. They'll be watching for manners, not the "finishing school" type, but to see if you are self-aware & polite in a general sense. A lunch interview provides a less controlled environment, so they'll be looking to see how you deal with mistakes (eg. you're delivered something different from what you ordered) and if you show a level of common kindness & respect. Formal interviews & technical exercises do a good job of vetting skill and ability, but human interaction provides insight into a person's "EQ" (Emotional Intelligence).
2. Make smart small talk
Lunch interviews are more casual than those held in a traditional office setting, so they will be more conversational by nature. Never lose sight of the fact that you are indeed in a business setting, not a social event. Keep your topics neutral & positive, don't bring up things like politics or religion and focus on upbeat subject matter, like new construction you noticed in the area or volunteer work you're involved with.
3. Come prepared
Yes, you're interviewing in a more relaxed setting, but it's still an important opportunity for you to reinforce your capabilities & value. You should still be prepared to answer the standard interview questions you'd get in a regular interview. Bring copies of your resume & any relevant work samples, as well as a professional notepad binder & a pen to take notes. As with any interview, you'll want to send the hiring manager a meaningful thank you email, as well as a handwritten letter.
4. Plan ahead, do your research, arrive early, order strategically
Interviewing can be stressful enough…do yourself a favor and research the restaurant ahead of time so that you're not compounding your anxiety by trying to figure things out at the last minute. Know the restaurant's exact location & plan your transportation/logistics accordingly (arrive 10 minutes ahead of time). Eat a little bit an hour or so before your interview. Look up the restaurant online to see how the restaurant is organized (noisy, busy, dark) and how people are dressed. Check out the menu & pick a few "safe" options to order (avoid messy, spicy, greasy food). Don't complain about your food, or send it back (you might be eating at the hiring manager's favorite restaurant). Do refuse (and don't request) any alcohol with your meal.
5. Know who you'll be meeting with
Get the names & titles of all the people you'll be meeting with. Google them & take a look at their Linkedin profile & their social media presence (most likely, they'll be doing the same for you). If you've never met before, seeing their profile picture will make it easier to recognize them at the restaurant, plus Linkedin will reveal connections you have in common. Doing some research will also help you to come up with prepared topics of conversation, including shared interests (see #2).
At Redfish, our mission is to build long-term productive partnerships with both candidates and companies. We pride ourselves on offering progressive service to our client partners without leaving honesty, integrity, excellence or performance behind. We aim to spark innovation, breed efficiency, and fuel market dominance by providing talent who can help take your company and product to the next level.
Our philosophy is simple: build long-term relationships by providing top-quality service and confidentiality, leveraging our expertise and resources, and having fun!