11 HeathTech Companies to Watch in 2020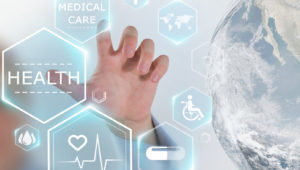 Technology is bringing about massive and welcome changes to the healthcare industry. Patients now have access to some of the best diagnostic tools, new and cutting-edge treatments, and improved procedures resulting in less pain, quicker healing and improved quality of life. Advances in 3-D printing, AI/ML, "Virtual" Healthcare, robotics, targeted treatments, and the availability of intuitive mobile apps have led to; improved care, streamlined processes, lower costs, and increased. Here are eleven of Redfish Technology's favorite companies in the HealthTech space
Human API (www.humanapi.co) Human API started with two simple questions: "why can't consumers access their health data?" and "why do enterprises struggle to connect this data?". Human API empowers health consumers to share their health data with the companies that can provide them with better care and services. Through their large, distributed network of integrations, we've created a simple, on-demand way for everyone to exchange and use the health data they need.
HealthTap (www.healthtap.com) HealthTap is delivering universal access to high-quality, virtual primary healthcare. HealthTap improves the healthcare experience for both patients and doctors while saving time and reducing costs for all. HealthTap's doctor-trained, augmented intelligence system personalizes users' care and enables an instant connection to doctors and their knowledge from 163 specialties.
Thrasys (www.thrasys) Thrasys' platform, SyntraNet, provides a suite of database-driven technology to the healthcare community; enabling functionality such as Electronic Medical Records (EMR), integrating healthcare information from numerous discrete data sources, secure HIPAA-compliant messaging, and analytics of populations and reporting on patient risk and costs of care.
Sypase (www.syapse.com) Syapse partners with health systems and life sciences companies to deliver clinical, programmatic, and research insights from the world's largest network of health systems focused on precision medicine.
TrueVault (www.truevault.com) TrueVault is the first data security company entirely focused on protecting Personally Identifiable Information (PII). TrueVault decouples consumer identity from consumer behavior to eliminate data security risks and compliance liabilities, giving companies only the data they need. As organizations collect and store more data to drive their businesses forward, they are simultaneously increasing their risk and liability. TrueVault removes 100 percent of that liability and ensures compliance with regulations such as HIPAA, GDPR, and the California Privacy Act.
Limelight Health (www.limelighthealth.com) Limelight Health is a leading provider of cloud-based enterprise software solutions delivering the most efficient and compelling quoting & underwriting platform for the employee benefits industry. They provide process automation and seamless integration between every participant in the employee benefits industry including carriers, underwriters, sales executives, agents, advisors, and their customers.
MedBridge (www.medbridgeeducation.com) MedBridge builds the tools to improve patient outcomes, increase profitability, and mitigate regulatory risk for more than 1,100 organizations nationwide. Named by Inc. Magazine as one of the nation's fastest growing companies, MedBridge drives better patient care while helping organizations improve financial performance. The fully integrated MedBridge platform provides the industry's most powerful patient engagement, continuing education, compliance training, and enterprise-level reporting tools.
Luma Health (www.lumahealth.io) Needing to see the doctor is hard. Actually being able to see your doctor shouldn't be. Luma Health solves the biggest challenge in healthcare — getting a patient in front of the right healthcare provider quickly. Delivering over a 65%+ patient response rate, their highly engaging mobile communication platform delivers real-time insight into all aspects of patient engagement, helping healthcare providers win back $27B/yr in lost revenue by directly connecting patients to care.
Alto Pharmacy (www.alto.com) One big problem with the healthcare industry: half of all prescriptions are never picked up, never make a milligram of impact. Alto was started to put healthcare in a better position to succeed, by building ever faster, friendlier ways to get medicine into the hands of people who need it.
Ciitizen (www.ciitizen.com) When You Control Your Health Data, You Control Your Options. Ciitizen helps you collect, summarize, and share your medical records digitally, free of charge. You can use it to get a second opinion, coordinate with caregivers, or donate to research.
CloudMedx Health (www.cloudmedxhealth.com) CloudMedx is building a world class clinical AI platform that uses healthcare specific NLP and machine learning to generate healthcare insights to improve patient journeys. CloudMedx aims to bring unprecedented scale and simplicity to healthcare by combining evidence based algorithms and big data architecture. By using scale and machine learning algorithms, clinical partners at all levels can derive meaningful and real-time insights from their data and intervene at critical junctures of patient care.