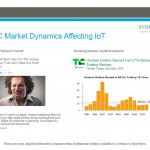 Reporting on the Internet of Things
The most viable IoT: Healthcare IT, Energy Efficiency, and Enablement technologies, this and more in the new Silicon Valley Bank report.
The Silicon Valley Bank (SVB) strategic advisory experts have just put out a new report on the Internet of Things. This analysis explores the market forces, financing dynamics, and then looks at niche markets such as enablement, connected healthcare, and energy efficiency.
The Internet of Things (IoT) was coined by then product manager at Procter & Gamble, Kevin Ashton, back in 1999. Kevin wrote that "If we had computers that knew everything there was to know about things—using data they gathered without any help from us—we would be able to track and count everything, and greatly reduce waste, loss and cost. We would know when things needed replacing, repairing or recalling, and whether they were fresh or past their best. The Internet of Things has the potential to change the world, just as the Internet did. Maybe even more so."
The SVB's IoT report covers advancement in technology that has poised the IoT for a renaissance, and looks at the promise and hurdles ahead. It calls out the gap between the offering of large tech companies and the areas where growth is strongest. And it states that investors are shying away from IoT technologies until the benefits can be quantified.

The IoT encompasses a vast number of sectors such as Communication, Connected Healthcare, Monitoring, Enablement, Energy and Environment, Meter/Utilities, Enterprise and IT, Heavy Industry, Retail and Commerce, Smart Buildings, and more.
IoT companies are faced with funding challenges. Venture Capital funding of IoT is facing imbalances in supply and demand. There are more angel or seed financed companies now than there are institutional funds to continue to fund them as they move into series A stage.
SVB reports that to successfully bring a product to market and expand (Series C and beyond), $30M+ in total invested capital is required on average. Lack of investment may be attributed to things like s hardware development, inventory management, long sales cycles, and/or slower than expected up-take.
The most viable business cases have been in Healthcare IT, Energy Efficiency, and Enablement technologies. IoT enablement technologies are the base upon which all other IoT products are built, and while experiencing strong growth, these are also experiencing increased cost of goods sold and operating expenses.
There are certainly great socio-economic benefits to come from the Internet of Things. Capital to fuel the innovation will continue to be allotted slowly as investors watch for proven quantifiable business cases.
Read the full SVB Internet of Things report online.
About SVB Analytics Strategic Advisory Service
For over 30 years, SVB has been at the center of the venture capital world, reviewing business models and providing valuation services to thousands of early-stage disruptive companies. Because of this, SVB Analytics' strategic advisory service has access to unique data that allows us to make both grounded valuations of companies, and forecasts of new markets that help investors evaluate opportunities with leading early-stage businesses.