Weekly Tech Career Opportunity Spotlight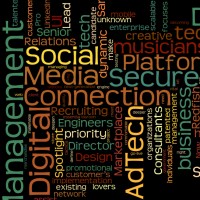 Here are some of the key opportunities that are priority hires for us this week.
You can find details on these jobs and other fabulous tech career opportunities on our website, or check the Redfish Technology career page on LinkedIn.
Follow the Redfish company page for updates on LinkedIn.
This week's priority recruiting focuses on the dynamic tech spaces of Digital Media – AdTech, Social Music Connection, Secure Mobile, and Data Management.
Digital Media – AdTech Platform
This exciting company is leading the targeting and personalization for B2B! Powered by patented technology the technology enables marketers to identify and segment companies on the web and delivers detailed, targetable business attributes in real-time. The company seeks talented individuals with a passion for innovation and customer success. They invest heavily in their people and community, and thrive on a work-hard, play-hard quality of life. Oh, and they are financed by leading Silicon Valley venture capital firms and Adobe Systems! Read more »