The Best Cities To Work In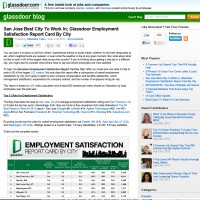 In the new Glassdoor survey respondents ranked the best cities to live in in terms of employment satisfaction. Overall employment satisfaction was compared by city, with factors such as compensation and benefits satisfaction, senior management satisfaction, expectations for company outlook, and the number of employers hiring per city taken into consideration.
San Jose and San Francisco took the lead at a score of 3.4 – Way to go brother friars! Each city is home to five Glassdoor's Top 50 Best Places to Work for 2013 companies: San Jose (Google #6, LinkedIn #14, Agilent Technologies #30, Intel #31, Apple #34) & San Francisco (Facebook #1, Riverbed Technology #3, Chevron #13, Workday #19, Salesforce.com #22). The top five were in a photo finish! Seattle, WA also scored 3.4, with Salt Lake City, UT and Washington, DC nipping at its heels at 3.3 each.
Software Engineer was the top in-demand job in 4 of the top five cities, and among the top three in-demand jobs in 7 of the top ten cities on the report card. Program Managers, Systems Engineers, Business Analyst and Sales Associates ranked high in the top cities, and Personal Trainer was in the top three in San Diego, proving that the economy must truly be in recovery.
When you are considering relocation, employment satisfaction surveys like this are a great source of information among othes. For other important criteria to consider, read Redfish recruiter Leah O'Flynn's article "Should You Move for a Job?"
Check out the complete results:
http://www.glassdoor.com/blog/glassdoors-employment-satisfaction-report-card-city/