Establishing Fit and Getting the Job Offer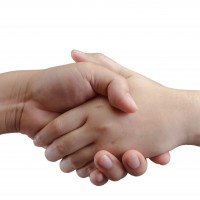 Eye on the Prize
The best outcome of an interview is a job offer at a great company, with good colleagues, in a challenging role, with satisfying remuneration. How do you get there? If you've been invited to the interview, most likely you are qualified, or at least pre-qualified for the position.
But getting to the offer and getting the offer you'd like means you've got to demonstrate your value as well as your ability to fit in with the team and jump right into the work. This can only be achieved if you can build rapport with your interviewers.
Two-Way Communication
An interview is an interactive dialogue not just a Q&A session that rephrases and reiterates the contents of your resume. And the interviewing goes both ways: Does the hiring manager and team think you are a good fit? Do you think the company, team and opportunity fit your objectives?
Convey Your Passion
This time to meet is all about communicating your passion and potential for the opportunity at hand. Show your true enthusiasm and appreciation for the position for which you are interviewing, the company's new technology or market strategy, the leadership's past record, the latest news the company has publicized. Make it abundantly clear that you can't wait to get started, share ideas that you have and goals that you'd like to meet.
Your Interviewer is a Person too
Be prepared for the personal side of things not just the sales numbers or the coding test. Ask your recruiter or others who have interviewed with the company or work there about the interviewer's style, personality, objectives and anything else you can learn in advance.
Pay attention to conversational cues and follow the interviewer's lead. Listen attentively so that you understand not only the literal information that you are being but also can pick up on the emotional cues and gain insights into the interviewer's points of pride, or particular challenges, his greatest need in this hire.
Research the People
Research the people you will be meeting with so you know and understand their backgrounds, and any connections you may share. Ask questions about how their own path led to where they are, what they learned along the way, and what their goals are. Complement the interviewer on his or her accomplishments, and find a natural way to mention your own accomplishments and career goals.
Be Passionate and Informed
Research the company before the interview and note recent initiatives, products or campaigns the company has rolled out or its future objectives it has announced. Complement the interviewer on the company's accomplishments and targets. Ask about what the interviewer would like you to accomplish in the first 3-6-12 months on the job, and about upcoming projects or challenges you'd get to be involved in.
Connecting
Throughout, find points of connection. This may be past or present colleagues, alumni from past schools or clubs, shared travel and hobbies, mutual places you've lived. Use humor to create a light and relaxed atmosphere. Show your genuine warmth and personality, be respectful and appreciative.
In short, if you can be likeable, communicate your skills and accomplishments, and show you really want this job, while making a personal connection, you will build the rapport with the interviewer that distinguishes you from other candidates. This rapport will give the interviewer confidence that you are an easy person to communicate with, who will fit in with the team, and who is passionate about the opportunity.
About the Author:
Anna Mathieu, Marketing Communications Manager, brings together in-the-trenches recruiting experience as well as years of marketing and sales success in a variety of industries from software to real estate development. She thrives on evangelizing the Redfish brand and communicating Redfish's expert recruiting services, to drive bottom line results.
Redfish Technology
Building Growth-Mode Tech Companies with Hand-Picked Talent
Founded in Silicon Valley in 1996, Redfish Technology is a leading provider of high tech professional and executive talent. Partnering with growth mode companies, small and large, Redfish staffs executive functions and builds out the teams below. Redfish experts provide advice and perspective on hiring, career building, and job search – check us out on the web: www.redfishtech.com