Recruiting Success Stories:
Featured Placement – Kyle Raprager
Senior Account Executive – Semantic Intelligence Software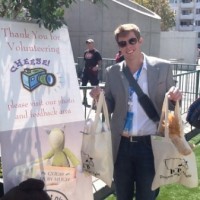 Recruiting for the leading enterprise software company specializing in the delivery of an advanced semantic intelligence platform means finding smart people! The company has created cutting-edge,patented technology that allows for semantic differentiation in big data. And just as the technology has set the company apart from all competitors, the sales executives do too. So when ExpertSystem tasked us with finding an experienced territory sales director, the Redfish Technology analyzed the requirements and crafted a very specific search. The organization requires executives with high-level expertise and a significant,proven sales history in the enterprise software market.Ideal candidates are of course strongly motivated individuals with mad negotiation skills who live and breathe sales management. Additionally,candidates must have the specialized knowledge of search,categorization, and entity extraction technology, as well as semantic technology. The sales executive should thrive at demonstrating company products and developing high quality proposals.
Very familiar with the natural language processing, Kyle Raprager's expertise runs the gamut from enterprise software through virtual agents, search & information management, text analytics, intelligence &security, and more. As a strong technology sales professional with a consultative approach, he has consistently delivered results by understanding and the needs to his clients, and delivering a solution to match. Kyle's mission has been strategic markets where he has been managing the full sales cycle to VP and C-level at Fortune 500 companies, with a focus on healthcare, finance, and travel verticals. He competed for and won a contract with one of the largest consulting firms in the world, a win his colleagues called the"most important deal in the history of the company"; and in a previous role he achieved top sales person in 2011. Kyle is a driven sales professional with the ability to build a solid pipeline and accurately manage and forecast the process. Kyle obtained a B.S. in Management, minoring in Business Law,Marketing, and Business Administration from Minnesota State University, where he was on the MSU Football Team. He continues to hone his technical and sales expertise through certifications from Cisco, Century Link, and Miller Heiman.
"Working with Jon and Leah was a truly pleasurable experience. From my initial call with Leah it was apparent she had done her homework and truly understood my skills and that they matched the position. Jon took the time to get to know me and it felt like he was on my side throughout the whole process.  He was extremely responsive and it felt more like a friend recommending me for a job vs. the traditional recruiting experience. I would highly recommend Redfish whether someone looking for their first job or looking to make a change in their career!" — Kyle Raprager