5 Great Benefits & Perks to Attract and Retain Employees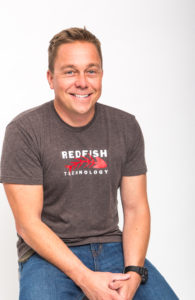 By: Jon Piggins
Director of Business Development, Redfish Technology
In today's tight labor market, competition for top talent continues to heat up. We've seen some of our clients increase their hiring rates by offering benefits & perks beyond what's now becoming standard, things like; unlimited vacation, "make your own hours", 100% paid health/dental/vision coverage. Here are some of the best perks we've seen recently.
Vacation reimbursement: "Unlimited" vacation is great…if you use it. Turns out that many employees are so busy that they never wind up taking advantage of the benefit and the company winds up with stressed out, tired workers. One company we work with decided to solve the problem by creating "vacation reimbursement", $3,000/yr per employee, can't take it as cash & have to use it each year or you lose it.
Student loan paydowns: With 44.7 million borrowers owing more than $1.5 Trillion in student loans, the U.S. is drowning in school loans. Not just a financial burden, student loan debt can be stressful & limiting. We've had a few clients begin to offer monthly contributions to their employee's loan payments, either by subsidizing the amount they had to pay or by matching payments (up to a limit) therefore helping to pay off the loan(s) sooner (sometime 7-10 years sooner).
529 accounts for employee's children: Think of a 529 account like a "Roth IRA" for college. Contributions are invested & when it's time to pay for college (tuition, room & board, books…) the money can be withdrawn without penalty or taxation. It's a nice additional way to help employees beyond the traditional health savings & retirement plans most companies offer.
New baby fund: Have a baby, get $4,000. That's what Bay Area based client of ours decided to start doing (diapers are expensive!). Seriously though, as wonderful as having a child can be, it's expensive & stressful. Getting a nice chunk of change & a good break for maternity/paternity leave is a great perk for your workers.
Housecleaning & Laundry Services: Put in a 60 hour work week & then have to deal with cleaning chores and laundry…no thanks. We have a longtime client in LA who provides weekly laundry and twice monthly house cleaning services for their approx. 100 employees. Simply bring in your clothes in a big nylon bag on Monday, it gets picked up at the office & comes back on Wednesday cleaned and folded.
The great thing about these benefits is that they're done in good spirit…yes they're self-serving for a company in helping to attract & retain talent and increase productivity, but they're also considerate towards employees with the goal of reducing their stress & burden and helping to make their lives a little easier.