The Résumé is Dead, Long Live the Résumé
LinkedIn, and Facebook, and Dice, oh my!
By Anna Mathieu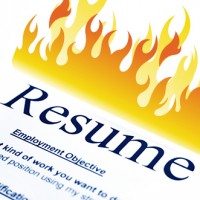 Professional networking site LinkedIn is the leading social media venue for career networking and recruiting alike. The concise display of Experience, Education, Skills, and Projects, peppered with Endorsements and Recommendations, ensures easy accessibility and searchability in a well-packaged graphic format.
Monster, Dice, CareerBuilder, The Ladders, Glassdoor, Execunet, etc. all offer a digital compendium of candidate's qualifications. Not only can you search for jobs, but recruiters and hiring managers can use keyword search to land on your profile. One click applications make it easy peasy lemon squeezy to apply for a job.
Personal websites, GitHub, Slideshare, and visual résumé sites, all offer personal vehicles of expression for your story, your apps/code, your publications, your projects, and your curriculum vitae. And any recruiter worth their salt, has mad google x-ray search skills that will bring hither all kinds of rare talent finds.
Social recruiting is the buzzword of choice these days. Bullhorn Reach, Jobvite, Tweet a Job, Facebook apps for job searching. It is mind-numbing how many social networks exist and no one can be everywhere. So if everything is on the web, the résumé must be dead. … Right?
Wrong.
All of the above are important communication and networking tools, to be utilized with finesse, creativity, and professionalism. Nonetheless the Applicant Tracking Systems that companies and recruiters use cannot absorb all of these various media and formats. Most still process mostly standard résumé formats.
And while everyone's social media presence had better be up to snuff, developers' GitHub portfolio full, and Sales executives' SlideShow presentations ready to go, the likelihood is that you'll still need to email or upload a résumé at some point.
While the internet is just a click away, perusing a résumé when you are screening candidates, making interview selections, and checking references is easier than chasing down information in multimedia presentations and other sites.
Even if recruiters were the last to want a résumé, guess who is in charge of screening and selecting you! So differentiate yourself, augment your professional brand via the social and professional networks, take advantage of the awesome new technologies available, but keep that résumé handy. Long live the résumé!
About the Author:
Anna Mathieu, Marketing Communications Manager, brings together in-the-trenches recruiting experience as well as years of marketing and sales success in a variety of industries from software to real estate development. She thrives on evangelizing the Redfish brand and communicating Redfish's expert recruiting services, to drive bottom line results.
 
About Redfish Technology:
Nationwide High Tech Recruiting
Founded in Silicon Valley in 1996, Redfish Technology has been a leading provider of high tech professional and executive talent. Partnering with growth mode companies, small and large, Redfish staffs executive functions and builds out the teams below. Call today to see how we can get your top tier talent now!